Addiction is on the rise
Life has never been more challenging. Between COVID-19, the ongoing opioid epidemic, and new drugs flooding our streets from abroad – we're seeing higher rates of addiction, isolation and mental health concerns. As the need for substance use disorder treatment continues to grow, we're here to help save lives.
OARS IS NOT YOUR TYPICAL RECOVERY EXPERIENCE
Why have we created a completely different kind of recovery experience? Because you deserve to be treated in a safe, supportive, and clinically-excellent setting. Because you deserve better access to treatments based in science and evidence. We'll treat your substance use disorder like routine healthcare – after all, it's a medical condition.
STRAIGHT TALK
Our blog, Straight Talk, gives you the most important tips, advice, and guidance that helps you or your loved one struggling with a substance use disorder.
WE DON'T JUDGE
WE SAVE LIVES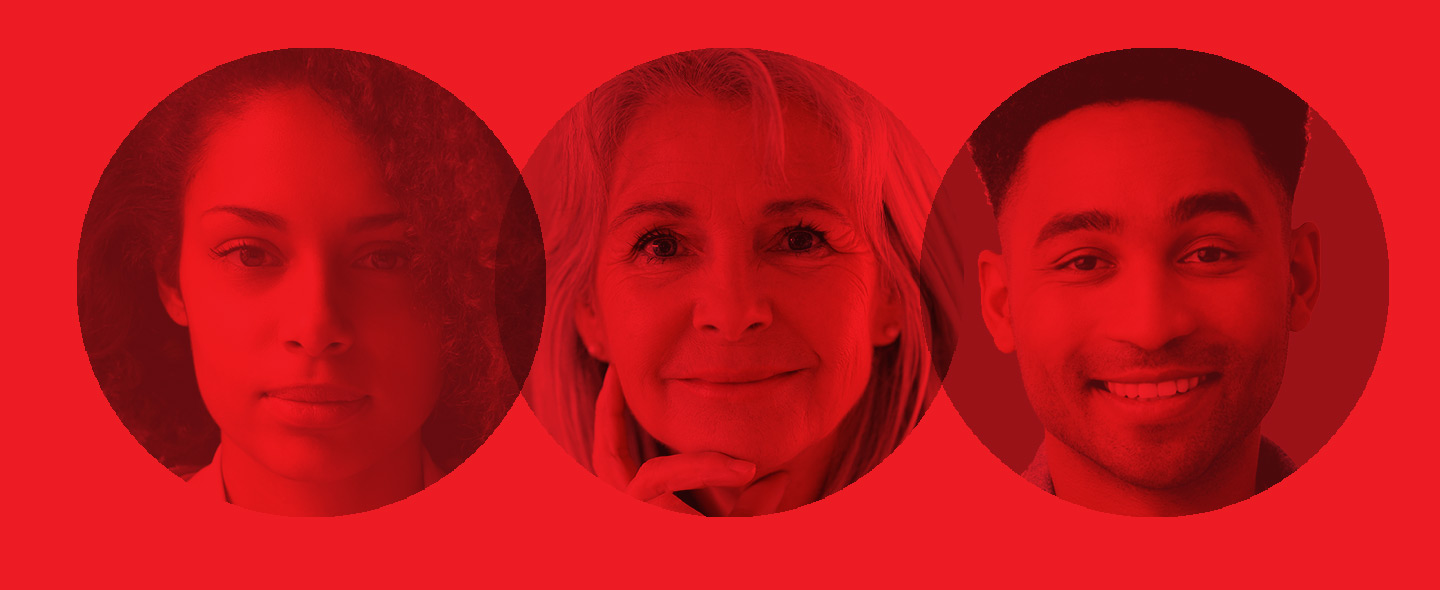 MORE SUCCESSFUL RECOVERIES START HERE
Our handpicked physicians and staff treat patients with dignity, respect, and evidenced-based therapies. We offer support every step of your recovery.
Since 2015, we've conducted over 50,000 visits for patients with opioid use disorder.
91% 6-month retention rate
79% 1-year retention rate
Countless lives saved
A UNIQUE TREATMENT FOR OPIOID USE DISORDER
See how our proprietary protocol saves lives.
OTHER SUBSTANCE USE DISORDERS WE EVALUATE AND TREAT
We're building on our past experience with Medication Assisted Treatment and Counseling to treat all substance use disorders, including the following:
Alcohol Use Disorder
Cannabis Use Disorder
Hallucinogen Use Disorder
Inhalant Use Disorder
Opioid Use Disorder
Sedative, Hypnotic, Anxiolytic Use Disorder
Stimulant Use Disorders
Tobacco Use Disorder
Gambling Disorder (not substance related)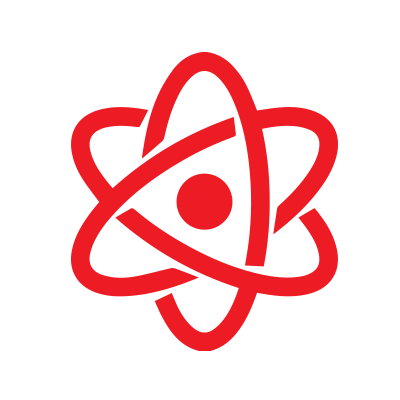 We believe
in science
Science tells us that addiction is a chronic brain disease. Like other diseases such as asthma, diabetes, or heart disease, it can't be cured. But it can be managed with treatment.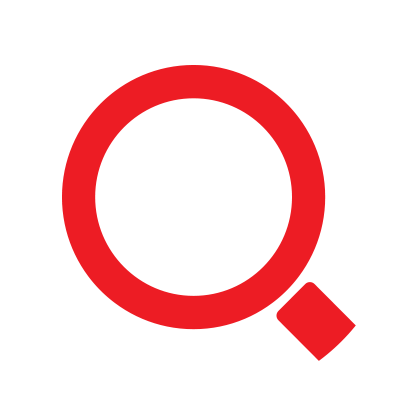 We believe
in evidence
Medication Assisted Treatment, or MAT, is proven to significantly improve the odds of a successful recovery from many substance use disorders. Let us customize a treatment plan for you.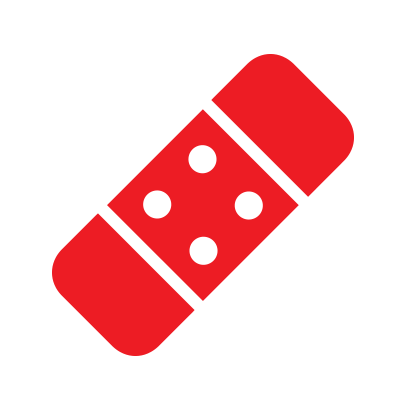 We believe
in recovery
Your recovery journey begins when you call us – or visit one of our offices. Sure, you'll face challenges. But we'll help you manage your disease just like any other illness.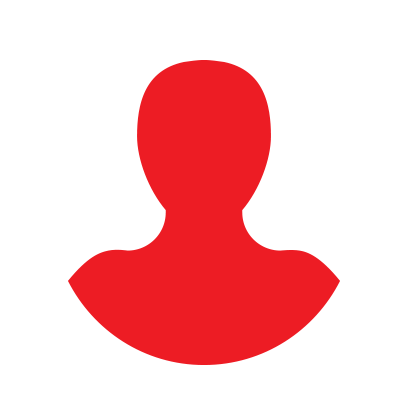 We believe
in you
At OARS there's no room for discrimination or disrespect. We believe you're stronger than your addiction. Ready to create a life that's healthy and addiction-free?
WHEN RECOVERY IS DONE RIGHT
IT MAKES LIVES WHOLE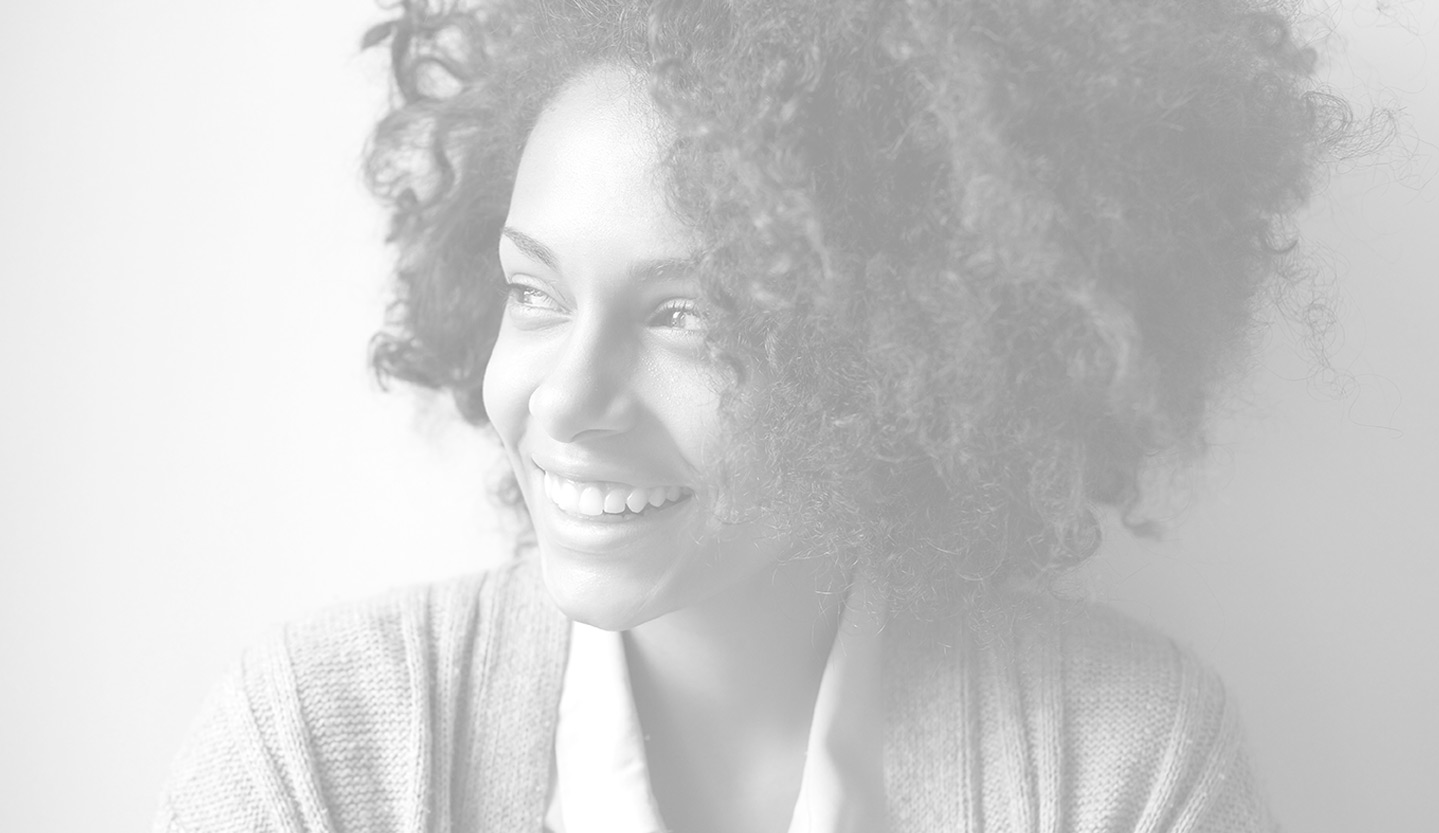 Recovery from a substance use disorder involves a lot of different pieces. When these pieces come together the right way, we improve the odds of success. What's behind the OARS model of recovery? Click on each circle for a closer look.
WE MAKE RECOVERY AFFORDABLE
Because the cost of addiction is already high enough
OARS makes sure that treatment is available to all.
We accept all major health insurances.
OARS services fees for patients without insurance coverage:
$200 per month
Weekly payments of $50
Building partnerships
Rebuilding lives
We partner with first responders, emergency departments, inpatient detox and rehabilitation programs, halfway houses, three-quarter houses, drug courts, corrections departments, and other important agencies. We're here to coordinate care – and make sure every recovery is complete.
Join the OARS team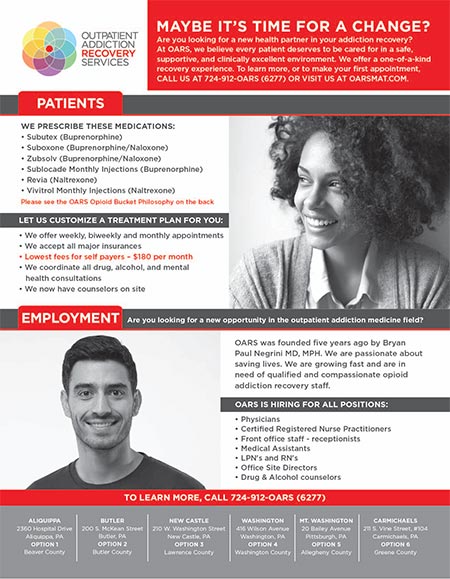 CLICK TO OPEN
To keep up with patient demand, OARS is growing. If you're a Physician, a CRNP, or PA with a passion for addiction medicine, please call 724-912-OARS (6277). We look forward to hearing about your qualifications, discussing career opportunities, and connecting you with Dr. Bryan Negrini, our company's owner.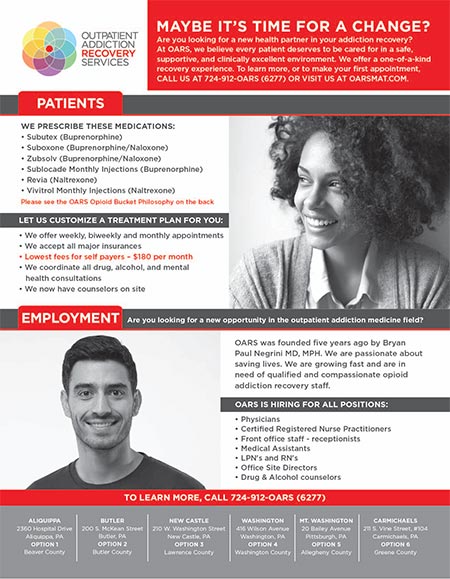 CLICK TO OPEN
Providing help where it's needed most
You'll find OARS in the areas of Pennsylvania that have been hardest hit by the opioid epidemic. Our locations are easily accessible by public transportation. And to meet the needs of even more communities, more locations are coming soon.